Our strategy and how we operate
We have built a good reputation as a specialist insurer in our chosen segments through a long-held strategy of balance between our big-ticket and Retail businesses – where greater volatility in our big-ticket businesses has typically been offset by more stable returns in Retail – and a long-term investment in a differentiated brand that customers value. This approach has served us well, forming the building blocks of our success, but over time that balance has evolved as the Retail businesses have grown consistently while the big-ticket businesses have been subject to a more cyclical environment.
As the external environment evolves and new opportunities emerge, how we think about balance evolves too. In Hiscox London Market and Hiscox Re & ILS, we have begun building out more balanced portfolios with an emphasis on leading the business we write. This means Hiscox underwriting plays a greater role in risk selection and contractual terms, with greater control over growth. Volatility exists in every part of insurance, but through a focus on building and maintaining balanced portfolios we will create more manageable volatility across the Group. By thinking about balance in this way, we believe we can maximise both the profitable, cyclical growth and the structural growth opportunities ahead.
The Hiscox Group comprises four businesses facing into different opportunities and challenges, but with a common set of capabilities and the capital support required for success.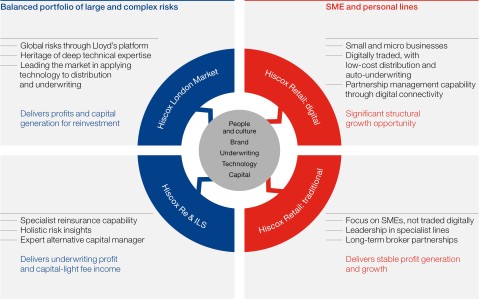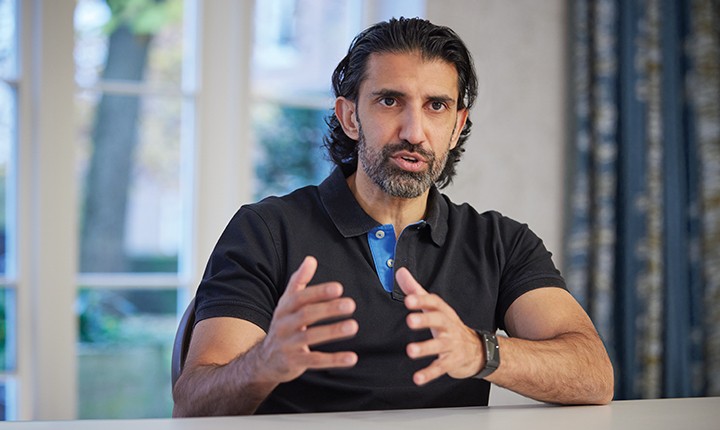 Our mix of businesses provides exposure to both long-term structural growth and cyclical trading opportunities. Market conditions are incredibly attractive, and we have a powerful combination of underwriting pedigree, data analytics and investment in technology which I believe sets us apart.
Aki Hussain, Group Chief Executive Officer
Our values
We have had a strong set of values for decades and they are incredibly important to us; we talk about them often and they guide our decision-making. We want our values to differentiate us, which is why they are considered in our strategy and how we operate. Our values play an important part when it comes to being a business our customers can relate to, and to providing all employees with a work environment in which they can flourish. We periodically review our purpose, values, culture and vision to ensure they are still true to the business and fit for the future.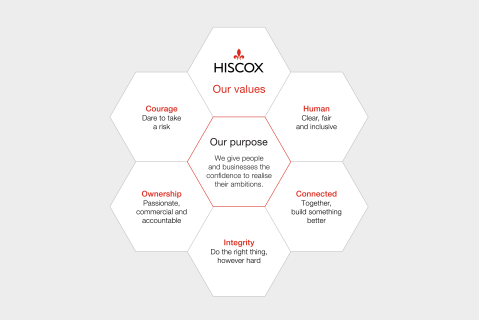 In our 2021 annual global employee engagement survey, which was completed by 85% of employees:
90% said they believe in our corporate values;
83% said employees are treated fairly, regardless of disability, age or professional background;
73% said they felt proud to work for Hiscox.
During 2021 we:
attracted 644 new talented permanent employees;
promoted 368 existing employees;
delivered over 43,500 hours of staff training worldwide.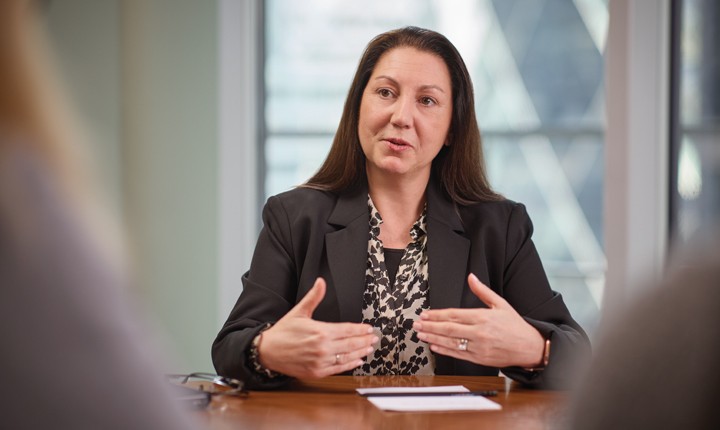 "I have worked at Hiscox for almost 20 years, and in all of the roles I have held – from Hiscox UK to Group functions, in claims, underwriting or operations – I have felt a strong and consistent culture. Our values are our common lexicon, no matter which part of the business you work in. They are lived and breathed, they are talked about often, and they inform decision-making at every level."
Joanne Musselle, Group Chief Underwriting Officer
We are a diversified international insurance group. Our strategy provides opportunity throughout the insurance cycle.