Hiscox is a diversified international insurance group with a consistent, long-held strategy that provides opportunity throughout the insurance cycle. Our ambition is to be a respected specialist insurer valued by our customers, business partners and shareholders, with a diverse portfolio by product and geography.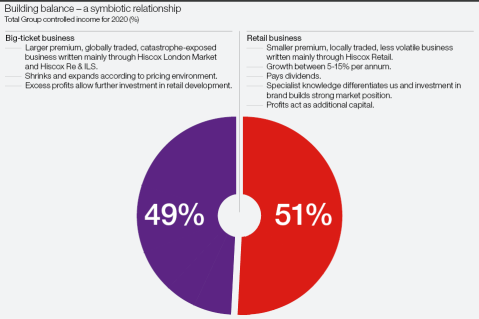 Our strategy
A strategy of balance
We maintain a balance between big-ticket business – the larger premium, globally traded and catastrophe-exposed lines written through Hiscox London Market and Hiscox Re & ILS – and the smaller premium, locally traded, relatively less volatile business written through Hiscox Retail.
A truly international business
Our products and services reach every continent, and we are one of the only insurers to offer everything from small business and home insurance to reinsurance and insurance-linked securities.
A specialist product approach
We seek to excel in our chosen markets, such as small business, flood or kidnap and ransom insurance. We invest in the right people, infrastructure and technology to give us the flexibility and nimbleness to respond quickly to changes. The common thread is our focus on niche products and services that differentiate us.
A focus on creating sustainable and compounding shareholder returns
By running a well-balanced business, underpinned by a clear set of values and characterised by a disciplined approach to underwriting, our aim is to consistently grow the business in a way that is organic, sustainable and profitable.
Over the last ten years the Hiscox Group has:
achieved total shareholder return of 190%;
returned capital to shareholders of over $1.6 billion;
achieved compound GWP growth in Hiscox Retail of 8%;
achieved compound GWP growth in big-ticket business of 4%;
grown gross premiums written to $32bn.
A resilient business
Strong underwriting discipline, a diversified strategy and sound capital management lead to a lower risk profile for the Group. 
We underwrite for profit, not for market share, and we actively manage our business mix according to the conditions in each sector.
The Hiscox Group maintains strong and stable credit ratings: 'A' by A.M. Best and S&P and 'A+' by Fitch. The Group remains strongly capitalised and is in a strong position to take advantage of future growth opportunities across our businesses.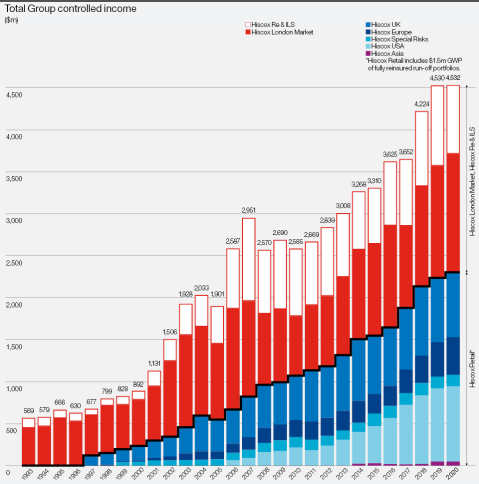 Unique culture
The quality of our people is a crucial factor in our continuing success. Their expertise, courage and dedication drive our reputation for quality and professionalism. In return, we strive to provide them with a work environment in which they can flourish. In our annual global employee engagement survey we look at how connected employees feel to Hiscox, their managers, their teams and their role. In our latest survey, 90% said they believe in our corporate values, 83% said employees are treated fairly regardless of disability, age or professional background, and 77% said they felt proud to work for Hiscox.
Find out more about our people
Strong brand
We invest in creating a customer-focused ethos and a powerful differentiated brand that our target customers identify with. 
Specialist expertise
We are market-leaders in many of the sectors in which we operate, while our commitment to provide clients with quick responses, clear coverage and superb service is at the heart of everything we do.
In the USA, Hiscox small business customers rated us 4.8 out of five for customer service on Feefo*;
In the UK, 92% of customers were satisfied with our customer service*;
Awarded Gracechurch Consulting's 2020 outstanding London Market Claims Service Quality Marque.
*all scores for 2020.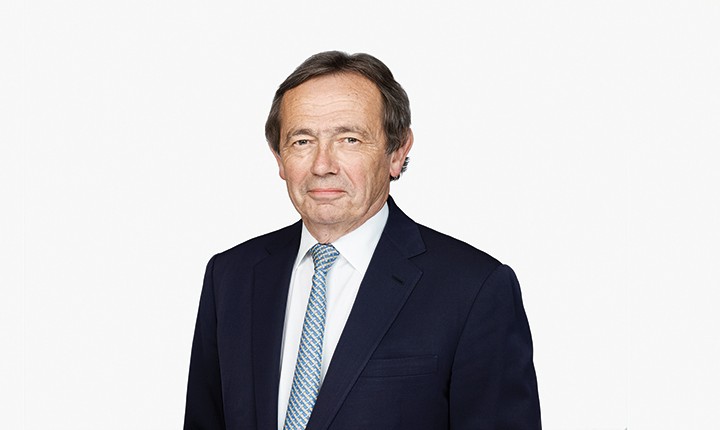 Hiscox is a specialist insurer. We are not a generalist and aim to be very good at some things and leave other classes to the competition.
Robert Childs, Chairman
Hiscox is a uniquely balanced insurer with a clear vision for the future.