We want everyone who works here to be comfortable being themselves, take opportunities to thrive in their careers and fulfil their aspirations whatever their background or way they choose to live their lives.
We've always believed in having 'the best person for the job' at Hiscox. That hasn't changed, but we are making huge efforts to truly level the playing field so that everyone has the chance to get on and grow with us. We've got lots of initiatives helping us do this, with examples including unconscious bias training for people managers and coaching and mentoring opportunities that help employees actively manage their careers.
Our approach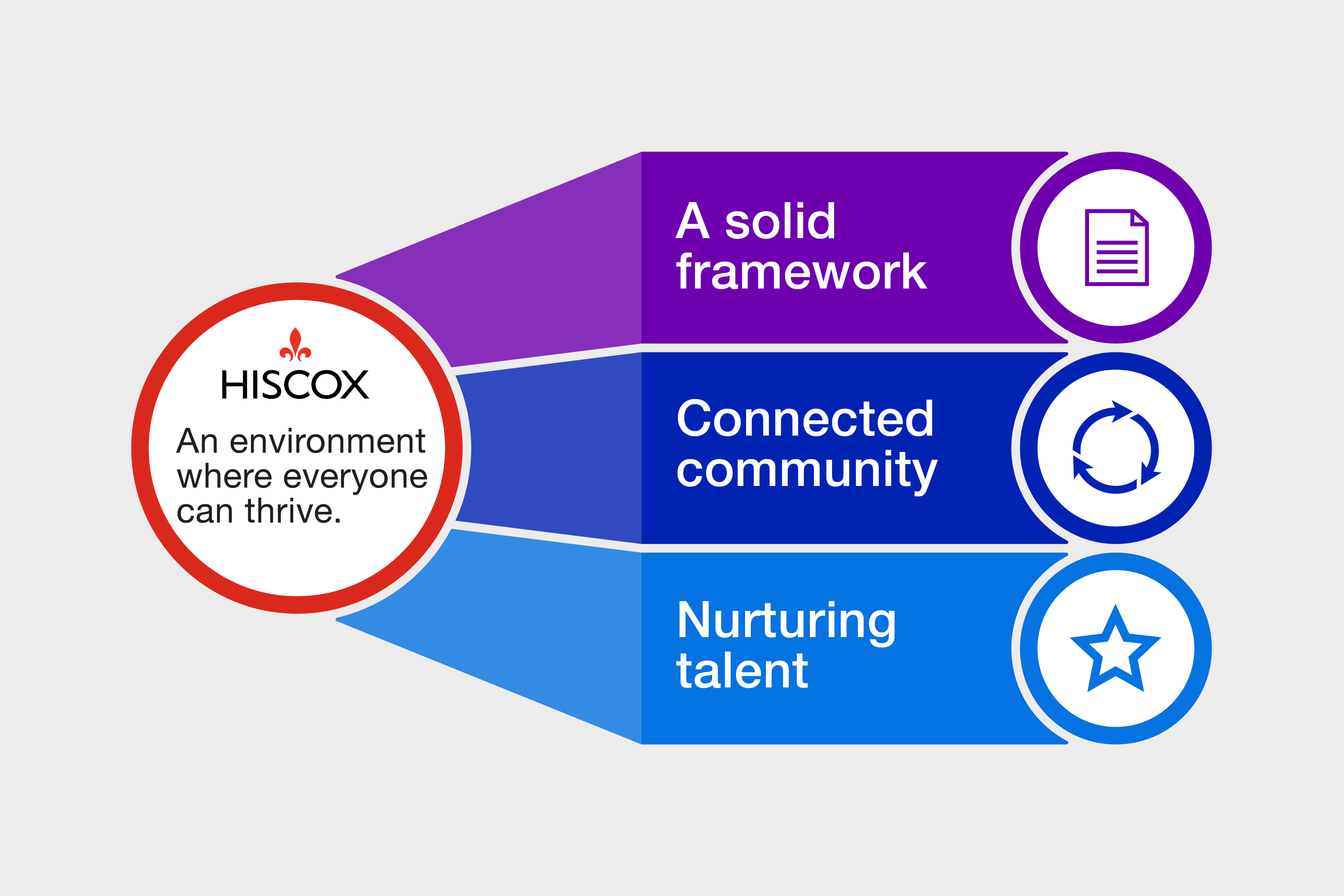 Our approach is simple and borne from our company values – integrity, human, courage, ownership and connected. We have a solid framework to make good things happen (that's the right policies and guidelines in place); we celebrate the many people and communities we have at Hiscox; and we nurture our talented employees.  We know that if everyone has the chance to thrive here, that Hiscox will thrive too.
Policies that guide inclusive behaviour
Our framework begins with our company values and includes our formal policies as well as our toolkits and guidance for employees.
At the heart of Hiscox is a set of values that reflect our culture and guide our behaviours. One of these values is 'human'  - which is about being clear, fair and inclusive - and it underpins how we do things and how we communicate, whether that's in our dealings with customers, for example,  or each other.
Ensuring diversity and inclusion at all levels of the business is a top priority for us. We have a senior sponsor for it – Kate Markham – who runs our London Market business and sits on our Executive Committee, and a Global Head of DEI that drives our efforts. We have two core policies that keep us accountable - a Group diversity, equity and inclusion policy that applies to all of our employees, and a Board diversity, equity and inclusion policy that applies to our Executive and Non Executive Directors. 
Added to this, we're committed to developing toolkits and guidance for employees. We have launched handbooks for expecting parents and managers of expecting parents as part of our 'return to work' programme. Last year, we marked International Transgender Day of Visibility with the launch of a 'transitioning in the workplace' guide too.
Reflecting our people and our customers
Connected is another of our company values which is about working together to build an even better company. Community is a celebration of all the different ways we come together to do it.
One way we have raised the bar on inclusion is with the launch of our employee network programme. We now have 12 employee network chapters across the Group, each one run by employees for employees and sponsored by someone on the leadership team. Open to anyone who wants to join, our networks include Pride, Pan-African and WeMind, our mental health and well-being network. You can read about them all here.
The networks hosted several events last year, including talks on topics such as managing stress, insuring women's futures and navigating difficult conversations. They not only provide employees with a forum for focused discussion but they have also led to practical initiatives such as lunchtime 'walk and talk' events in our London office, 'Bring Your Child to Work ' day in our Colchester office and well-being lunches in the café.
During the Covid-19 pandemic, this has extended to a range of virtual activities including the sharing of resources, stories and tips to support well-being, live-stream workout sessions, art competitions, virtual coffee mornings for groups such as working parents and aspiring leaders, and celebration events such as a 'Cinco de Mayo' lunch.
Having a connected community goes beyond our own walls, with networks supporting a number of initiatives and charities through volunteering time and resources and sponsorships. Here's a couple that our networks have put their passion behind:
In London, we sponsored the Queer Frontiers pop-up art exhibition in the heart of Soho during Pride week in 2019 which focussed on profiling the work of LGBT+ artists and raising awareness of issues important to the community.  Proceeds from the exhibition raised £28,500 for LGBT+ charities: Albert Kennedy Trust and Switchboard.   
Our Women at Hiscox network in the US/Bermuda has supported 'Dress for Success', which provides a network of support, professional attire and development tools to help women thrive in work and in life.  They also supported 'Girls on the Run', a charity which provides a positive youth development programme for school-age girls from low-income, under-resourced communities.  
Furthermore, we're also starting to see the employee networks identify opportunities to partner with the business; our Latino network partnered with our US Direct and Partnership Division and Branding teams in 2019 to launch the Spanish version of the US website.
The best person for the job
Of course, we always want the best person for the job – and our focus is on attracting amazing talent and then giving them the opportunity to grow as we do.
DEI is embedded into our recruitment processes – from job descriptions offering flexible working options, to striving for diverse candidate slates. We are always open to new ideas and initiatives too – in 2019 we partnered with an early careers app that meant we could reach a wide and diverse demographic with our graduate vacancies. 
The war for talent is unwavering - particularly when it comes to middle management and leadership positions when there's not often much movement. Our approach is one of long-term investment in people, ensuring DEI forms part of our succession planning and development plans. There are various initiatives helping us do this including unconscious bias training for our people managers and coaching and mentoring opportunities to help employees actively manage their careers. 
When it comes to training, we've been embedding DEI into our existing learning and development training modules. We have also developed a half day workshop on Inclusive Leadership which covers unconscious bias and areas such as work allocation and providing feedback. We are also very proud of colleagues who have taken one of our mental health courses – as of March 2020, over 200 UK employees have taken mental health and well-being awareness training and 75 have qualified as mental health first aiders. During the Covid-19 Crisis, we introduced a new training programme for both managers and employees on mental health and we're proud that more than 422 managers and 590 employees have chosen to complete it.
Our overarching belief is that in order to succeed in our competitive environment, where roles are appointed on the basis of merit and merit alone, our talent must reflect all sections of society fairly. To achieve this goal, we are implementing specific strategies to encourage diversity in the talent pool available for the selection of roles, and aim to widen the pool of candidates available to us whilst ensuring everyone has an equal opportunity to thrive in Hiscox.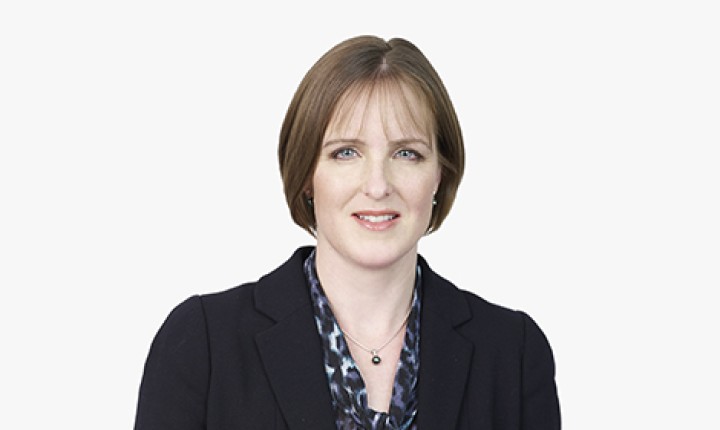 It's about cherishing our differences and the strengths we all bring. It's key for success and a priority for us.
Kate Markham, Chief Executive, Hiscox London Market and Exec-sponsor of DEI at Hiscox
#WeStandTogether
At Hiscox, we stand with those calling for racial equality and justice. There is no place in our society for racism, injustice, hate or violence. We all have a role in creating a more compassionate and inclusive world, and at Hiscox we want to play our part. We have more to do, but we focus on promoting education, awareness, and understanding among our employees, and on providing a safe environment where all employees feel supported. You can find out more about the steps we are taking here.  
 
We are committed to contributing to the creation of a better world and we know we can do more. Our voices are critical, now more than ever, and we must come together to ensure our society guarantees everyone's basic human rights. We stand with the black community in the fight for racial equality and justice, and we look forward to helping to bring about the social change that needs to happen.
An environment where everyone can thrive.