Over the last five years we have invested over US$200 million on our own world-wide community of 800 insurance claims experts ranging from claims lawyers to claims adjusters. The size of the investment and the impact on customer outcomes – how quickly their claim is resolved and paid – mixed in with a changing regulatory climate, underscores our determination to focus on getting the balance right between cost and value, and delivering the best results for our customers and our business.
Success in claims is about delivering on a promise to pay a claim quickly and efficiently. At Hiscox, we're rightly proud of our record in doing just that and much of our success is in part down to the rewarding supplier partnerships we enjoy from a much larger, diverse team of external claims experts around the world who share our core values.
By working in partnership with quality firms who we naturally align with at a human, professional and brand level, we are able to deliver great change and positively impact the customer experience.
Part of the team
Our claims suppliers are not subservient to us and they are not a commodity to be unfairly exploited and squeezed. Success is not measured by the size of a service credit we claw back. We have a different approach. We are human which means we are fair, firm and inclusive because quite simply we value who we work with. We value our partners' expertise and their commitment to our brand promise. We need our suppliers to support our customers and do what they said they would do when they said they would do it, and their prime focus should always be on fair customer outcomes and not on meaningless (to the customer anyway) voluminous service levels or irrelevant KPIs. This is exactly what they have been doing as they have been getting to grips with the aftermath of Hurricanes Harvey and Irma in recent weeks. Thank you.
Fair pay for a fair day's work
Yes, we expect a great deal from our suppliers so why shouldn't they expect a fair deal from us? Take our approach to payment terms just as a single example. Apart from the international players in the legal and adjusting world, the experts we tap into are often niche, small companies landing a powerful punch in their area of expertise and who support our claims teams and policyholders whether they're in Wellington, Madrid, Glasgow, or Iowa. We understand the challenges smaller companies face and can appreciate that good cash flow is important to them, which is why we introduced 15 day payment terms for invoices across our global claims supply chain.
The art of the possible
Of course, understanding who you work for and what they represent is really important for any supplier and we have been helping to turbo charge that. Our Hiscox brand book 'The art of the possible' has been flying far and wide, landing with a thump on hundreds of our claim partners' door steps in every corner of the globe. The brand book maps out where Hiscox has come from and gives a glimmer of where we are going as a growing international insurer. Hiscox staff and customers have contributed to the content of this book and share their thoughts about what Hiscox and its brand values mean to them.
To bring it to life, we have asked each of our claims partners around the world to send us a selfie with the brand-book near a landmark location. Here is a small selection of some of the amazing photographs we have received from as far away as Sydney and British Colombia to Vancouver and Edinburgh.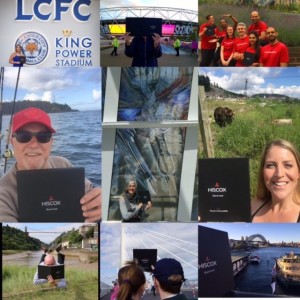 Send us your brand selfie
When we look at our supply chain we see opportunity; value; integrity; and hard-work. Today we enjoy an unprecedented level of value added services and support precisely because we, and they, remain true to our values. Long may it continue.
If you're a Hiscox supplier and would like a hard copy of the Hiscox Brand Book 'The art of the possible', get in touch we'll be happy to send you one – just make sure you send us back a selfie!