London, UK (4 May, 2023) - Hiscox employees at its York office have raised almost £20,000 for Different Strokes, a charity that empowers stroke survivors to reclaim their lives and ambitions through active peer support.
Over the last year, staff based at the Hiscox York office have participated in  a number of fundraising events including indulging in 'treats from the sweetie trolley', taking part in a 5k inflatable run, hosting art tours of the office, celebration lunches and raffles.
The money raised will enable the York Group of Different Strokes to continue to provide a high level of support to stroke survivors over the next two to three years. It will go towards the costs of running social activities such as a visit to Yorkshire Wildlife Park, and physical activities like yoga or aqua-fit sessions.
James Scottwood, Head of Hiscox's York office said: "A huge congratulations to everyone at our York office who raised so much money through team work – I'm so proud of them. Every year we choose a charity that in some way has touched a member of the team and Different Strokes is no different, which is why we are delighted to have raised so much money for them to carry on their fantastic work."
Chris O' Neill from Different Strokes added: "The money raised by Hiscox in York will make such a difference to all the people locally who have been impacted by a stroke. It will help us continue to offer emotional and physical support to cope with the psychological impacts a stroke can have. We can't thank Hiscox enough for all they have done."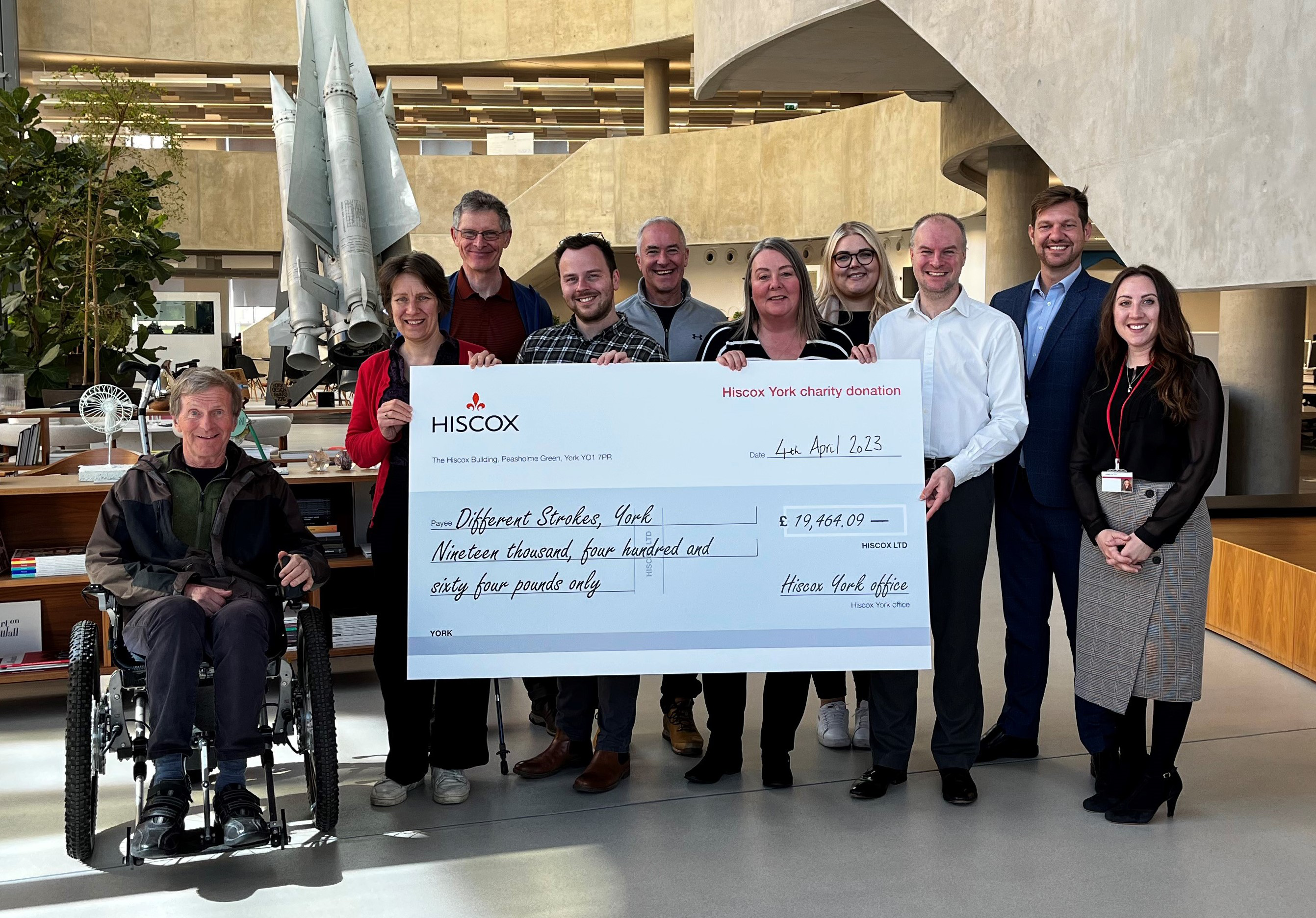 Photo caption, left to right: Andrew Monk, Olivia Euesden, Chris O'Neill, James Winnington, Mark Whitehead, Dawn Paterson, Clodagh Hartley, John Jobling, James Scottwood, Gemma Wilson
Stroke Case Study, York – Chris O'Neill
There are many case studies of people who have had a stroke on the Different Strokes website. This is a brief outline of Chris's stroke journey in York.
Chris was a partner in a successful firm of York architects. He was fit and healthy, and enjoyed many active hobbies, such as walking, kayaking, cycling and running. Then, in November 2016 he had a stroke out of the blue. It turned out that his stroke was caused by a haemorrhage in his brain-stem, which in turn was caused by a malformation in the blood vessels called a Cavernoma; a defect which forms in the womb.
Chris underwent brain surgery at Hull Royal Infirmary in spring 2017, and following a second haemorrhage in 2019, further surgery in London. This time all of the underlying defect was removed, so Chris is optimistic that it won't reoccur.
The upshot of this is that Chris has reduced physical sensitivity and reduced control of the muscles in his left-hand side, which makes using his left hand and walking difficult (a condition called ataxia); his balance has been badly affected; he has double vision and his sight vibrates (nystagmus).
So as a result of the stroke, Chris's life was devastated. His mental fatigue, physical disabilities and sight difficulties meant that it was impossible for him to continue working. Gone were the multi-day walking holidays with his wife; gone was the cycling and running; gone were his sea kayaking adventures. All of the things that gave him a sense of personal identity, of value or purpose, all of the things that brought fun were gone.
Initially he became quite isolated and depressed, unsure of what the future held. But then he joined the Different Strokes, York Group. Here he met other people who had been through similar experiences, and he could see that they were now reclaiming their lives. He formed a new friendship circle, and this helped him to overcome and dispel many of his negative psychological issues. It also helped him to break down what seemed like an insurmountable barrier of physical challenges, into smaller specific problems, and helped him to find the best form of help to tackle each of them.
Chris has found that the common response to a stroke is at first denial, and then to want to isolate yourself, to protect yourself from the world. It requires a lot of support and reassurance to fight back. The help and support provided by meeting other people who have and are still going through, similar experiences, and the support provided by Different Strokes has been invaluable to him. 
Chris now does an hour of physical exercise every day; he attends a Yoga group, goes to aqua fit sessions in a local pool, volunteers with the York Different Strokes Group, and rides a recumbent trike instead of his bicycle.  Instead of multi-day walking holidays, Chris and his wife now enjoy multi-day cycle touring holidays.
Ends
For further information please contact:                                                                                                                                     
Hiscox Ltd
Carmel McCarthy               07769 280903
Notes to editors
About The Hiscox Group
Hiscox is a global specialist insurer, headquartered in Bermuda and listed on the London Stock Exchange (LSE:HSX). Our ambition is to be a respected specialist insurer with a diverse portfolio by product and geography. We believe that building balance between catastrophe-exposed business and less volatile local specialty business gives us opportunities for profitable growth throughout the insurance cycle.
The Hiscox Group employs over 3,000 people in 14 countries, and has customers worldwide. Through the retail businesses in the UK, Europe, Asia and the USA, we offer a range of specialist insurance products in commercial and personal lines. Internationally traded, bigger ticket business and reinsurance is underwritten through Hiscox London Market and Hiscox Re & ILS.
Our values define our business, with a focus on people, courage, ownership and integrity. We pride ourselves on being true to our word and our award-winning claims service is testament to that. For more information, visit www.hiscoxgroup.com.
---
All press releases