David Hockney and Aboudia are the best-selling artists in 2022, based on global auction value and most artworks sold respectively

Five-year trends show contemporary art sales by value peaked in 2021 and a record number of artworks were sold at auction in 2022

More art being flipped as 'wet paint' sales (artworks auctioned within two years of production) jump 166% in 2022

Download a copy of the HAT 100 Report here
London, UK (25 September 2023) – David Hockney was the best-selling artist last year by auction value, generating $75 million, while Aboudia tops the list for the most artworks sold, according to the Hiscox Artist Top 100 (HAT 100) report. The research* – which delves into the key trends in the market for contemporary art made since 2000 – identifies the top-selling contemporary artists, by both value and number of artworks sold at auction.   
Artist trends 
David Hockney tops the 2022 sales value ranking generating $75 million in sales for works made after 2000. He was followed by Yayoi Kusama ($62 million), Yoshitomo Nara ($49 million), Cy Twombly ($46 million) and Adrian Ghenie ($34 million). 

Aboudia sold the most artworks in 2022 with a total of 75 artworks, followed by Damien Hirst (73 lots), Edgar Plans (65 lots), Yoshitomo Nara (62 lots) and Jordy Kerwick (61 lots). 

Banksy has generated the most sales value in the past five years – making $205 million in auction sales of post-2000 artworks. This was followed by Yoshitomo Nara ($189 million), George Condo ($183 million), Yayoi Kusama ($177 million) and KAWS ($136 million). 

KAWS sold the most lots in the past five years at 397 artworks, excluding prints and limited editions, for a total of $136 million. He was followed by Yoshitomo Nara (269 lots), Damien Hirst (226 lots), George Condo (219 lots) and Yayoi Kusama (181 lots). 
Artworks by Banksy generated $205 million at auction in the last five years to 2022, while KAWS tops the list for the most pieces sold over the same period.  
Despite Banksy topping the list by value for the last five years, the demand for his work has fallen since 2021 – with auction sales of unique works dropping by 73% in 2022, and the number of unique works coming to auction falling by 33%.  
With Banksy's market in retreat, David Hockney rose to the top of the auction sales ranking by value in 2022 for works produced after 2000, pushing Banksy down to sixth place. Hockney's more recent works raised $75 million, almost four times the value of sales in 2021. The most valuable Hockney painting sold in 2022 was 'Winter Timber' (2009), which sold for $20 million at Christie's in New York in November. 
Although American artist KAWS sold more works between 2018 and 2022 than other artists, the number of his pieces coming to auction has fallen 83% since the peak in 2019, leaving him in 17th place in 2022. Last year, the American-Ivorian contemporary artist Aboudia topped the list, with a total of 75 artworks sold, followed by Damien Hirst, who made a comeback and emerged as the second top-selling artist by number of artworks (73), with the number of lots sold more than doubling from 2021.  
Robert Read, Head of Art and Private Clients at Hiscox, said: "Banksy and KAWS have dominated the past five years but that's not the whole story. The popularity of contemporary art is influenced by what is happening at a specific time, so it's not surprising to see money flowing to more established artists like Hockney last year, as the economy experienced significant turbulence. Contemporary artists offer a fresh way of looking at the world, because they often speak to us about emerging issues and beliefs through their work. When we look at these artists again in a year's time, their popularity will have no doubted shifted. It really is a roller coaster ride in the world of contemporary art."      
More art being auctioned and flipped  
The past two years saw a significant increase in the value of contemporary work sold, peaking in 2021 at almost $1.2 billion. There was also a significant jump in the number of works sold at auction in 2022, with 5,726 post-2000 pieces sold from Sotheby's, Christie's and Phillips, a 48% increase year-on-year. 
The HAT 100 report also highlighted a market that has become increasingly speculative, with the number of 'wet-paint' works (those re-sold at auction within two years of being made) more than doubling last year. In 2022, 1,033 wet paint lots were sold in auction at Christie's, Sotherby's and Phillips, up from 478 offered in 2021 – a 116% increase.  
Read added: "We suspected that over time, the contemporary market had become more speculative, but last year wet paint sales sky-rocketed. Art is an attractive asset class for investors in the long run, but reselling within such short periods can have a destabilising effect on the market as it creates a speculative bubble." 
Expectations for 2023 
Early data for 2023** puts Yayoi Kusama as the favourite for total sales, having overtaken David Hockney in the first six months of the year. Figures from January to the end of June 2023 also indicate a significant reshuffling of the remaining top 10, with artists such as Jeff Koons, Takashi Murakami, Cecily Brown, Matthew Wong, Nicolas Party and Mark Bradford expected to make an appearance. Damien Hirst leads the way for lots sold in 2023 so far, followed by Yoshitomo Nara and Yayoi Kusama. 
ENDS
Download a copy of the report here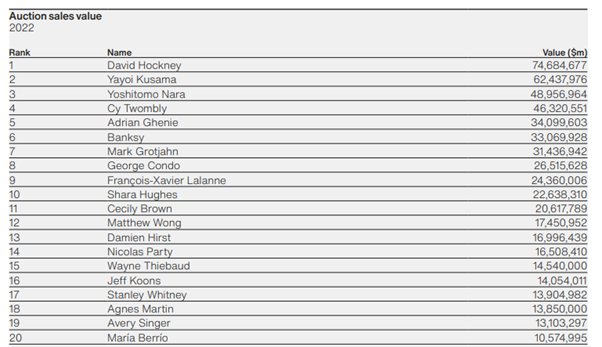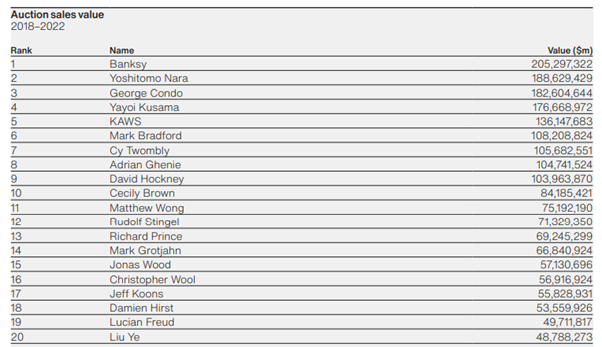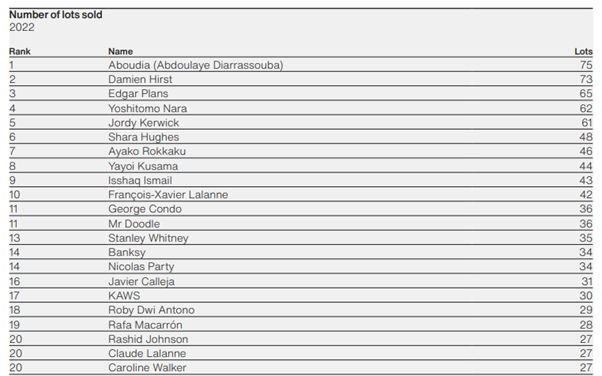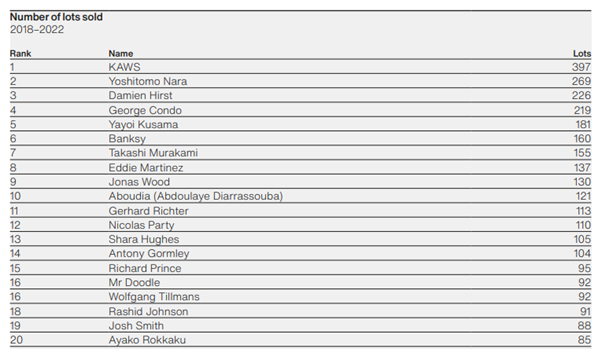 For further information please contact:  
Hiscox Ltd 
Katie Bergin - [email protected] 0787 295 3065  
Carmel McCarthy - [email protected]  07769 280903 
 
Notes to editors 
Download the full report here
*The research was carried out by ArtTactic and is based on unique artworks (editions not included) made after year 2000, which have been sold in auction at Christie's, Sotheby's and Phillips between 2018 and 2022. The research includes more than 23,000 lots from more than 3,800 artists. 
** Additional figures for H1 2023 supplied by ArtTactic, again based on unique artworks (editions not included) made after year 2000, which have been sold in auction at Christie's, Sotheby's and Phillips between 1st Jan 2023 and 30 June 2023. Full tables for H1 2023 are available upon request. 
About The Hiscox Group 
Hiscox is a global specialist insurer, headquartered in Bermuda and listed on the London Stock Exchange (LSE:HSX). Our ambition is to be a respected specialist insurer with a diverse portfolio by product and geography. We believe that building balance between catastrophe-exposed business and less volatile local specialty business gives us opportunities for profitable growth throughout the insurance cycle. 
The Hiscox Group employs over 3,000 people in 14 countries, and has customers worldwide. Through the retail businesses in the UK, Europe, Asia and the USA, we offer a range of specialist insurance products in commercial and personal lines. Internationally traded, bigger ticket business and reinsurance is underwritten through Hiscox London Market and Hiscox Re & ILS. 
Our values define our business, with a focus on people, courage, ownership and integrity. We pride ourselves on being true to our word and our award-winning claims service is testament to that. For more information, visit www.hiscoxgroup.com. 
For more information, visit www.hiscoxgroup.com. 
About ArtTactic 
ArtTactic is a London-based art market research and analysis firm that offers dynamic and responsive research and commentary on the fast-paced and ever-changing art market. ArtTactic was founded in 2001 by Anders Petterson.  ArtTactic has been a pioneer in developing industry research and analytical tools for the global art market. ArtTactic provides a new dimension to art market analysis by combining both qualitative and quantitative research tools with an in-depth knowledge of how the art market works. ArtTactic's weekly art market research and analysis can be accessed via www.arttactic.com. 
---
All press releases